Newspaper article on WKAC from Decatur Daily can be viewd here.
---
Listen to our programming on-line or with your smart phone. We record and playback certain programs at later times so everyone can enjoy them. Our On-Line internet schedule is here.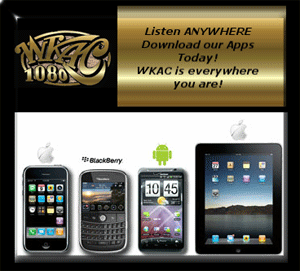 Ju

Chili Bites
Here is the perfect recipe for participating in and enjoying the 27th annual Hospice of Limestone County Chili Challenge and Silent Auction:

● Save the date
Saturday, Feb. 28, from 10 a.m. to 2 p.m. at Athens High School's old gym.

● Tickets
Cost is $10. Children under 10 get in free. Tickets are available at the door or before the event or at Hospice at 405 S. Marion St. Your ticket includes lunch served at 11 a.m.; entertainment; tasting chili samples from the 32 competitors and voting for your favorite until 1:45 p.m.; and bidding on auction items until 1:30 p.m.

● Become a challenger
To enter as a challenger, call the Hospice Office at (256) 232-5017 as soon as possible.

● Sponsor the event
Sponsorships are categorized as the following: Friend of Spice Sponsor, $50; Chili Pepper Patron, $50- $99; Ring of Fire Giver $100-$199; Tempt the Taste Buds Supporter, $200-$500; One Hot Tamale, $500+. Call 256-232-5017 for more information.

● Donate to the Silent Auction
Donate goods or services, hand-made craft items, free art lessons, furniture, automobile service, hardware items, reserved tickets to sporting events, outdoor items, or a weekend at a beach front condo. Drop off items at Hospice at 405 S. Marion St., or call 256-232-5017 to have an item picked up.

● Parking
Parking is not allowed in the fire zone in front of the gym entrance. Please park in designated parking spaces. A Limestone County Sheriff's Department deputy will drive a van loaned by the district attorney's office to transport the elderly and handicapped from their parking space to the entrance and back.

● Entering the event
No one will be allowed in the event without a ticket. The only entrance will the front of the school by the old gym. Other doors can be used as exits but will be locked to prohibit outside entry.

T-shirts are available at Hospice. Short sleeve $12, long sleeve $17, and 2X short sleeve $17. Youth sizes are $10.
● More Info
For more information, call Hospice at 256-232-5017.
Get the latest on Road Closing
Get complete weather forecast for the Tennessee Valley and surrounding areas, plus Watches, Warnings and Radar by clicking on the WKAC menu bar at the top.

---