| | | |
| --- | --- | --- |
Hear Athens Girls Basketball Tuesday 21. Tip-off scheduled for 12:30 from Wallace State in Hanceville, AL. Ron Oakley and Stace Tedford will have all the exciting action.
Athens Girls vs Hazel Green in the Northwest Regional Tournament live on the air at 1080 WKAC and always on-line at wkac1080.com.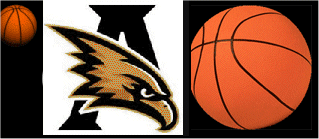 Download our apps by clicking below.

---

Important Weather Info

---

Listen to our programming on-line or with your smart phone. We record and playback certain programs at later times so everyone can enjoy them. Our On-Line internet schedule is here.

Now available on your wrist and in your car!

Tennessee Valley Spotlight Archive

Get the latest on Road Closing

Get complete weather forecast for the Tennessee Valley and surrounding areas, plus Watches, Warnings and Radar by clicking on the WKAC menu bar at the top.

---

Like us on Facebook!

Follow WKAC on Twitter

---

---

---

---

---

Post your Classifieds FREE!
Designed for WKAC by KLAMCO Web Design ©2007